! (C) Copyright ShropMog >
WARNING: Open Road Motoring Under Threat in the UK
Part of the pleasure of Morgan ownership is to enjoy driving with the freedom of the open road but beware, this is under threat from local councils.

In May 2013, new 50 mph speed limit signs were erected on the A5 between the A4640 junction and the bottom of Redhill. This section of road is in the countryside, near to Telford and had always been "National Speed Limit".

The road here is straight - after all, it is a section of the Roman Road, Watling Street. There is perfect visibility of both the layby and the Grange Lane junction, which the new limit is intended to protect.

The new limit extends far beyond the junction, to the very limit of Telford and Wrekin Council jurisdiction, adding weight to the argument that this is not about improving road safety.

When challenged about this, the Council's reply (see below) only serves to confirm that creating the new limit is a pointless exercise that fails to meet its stated intention. It acknowledges the low accident history and admits that the new limit will not reduce the traffic speed along this section of road.
Important Lesson to be Learned
The A5 is a major historical motoring route, running from London to Holyhead. It is used by locals and by people from further afield. The Council's approach to public consultation is to publish a notice in a local newspaper and see if any objections arise. This obviously excludes those most affected (motorists using the road while travelling from further afield) from the process.

We all know that speed limits are important for safety where they are needed but if you see a council notification about a pointless speed limit, please object immediately and get your friends to object as well !!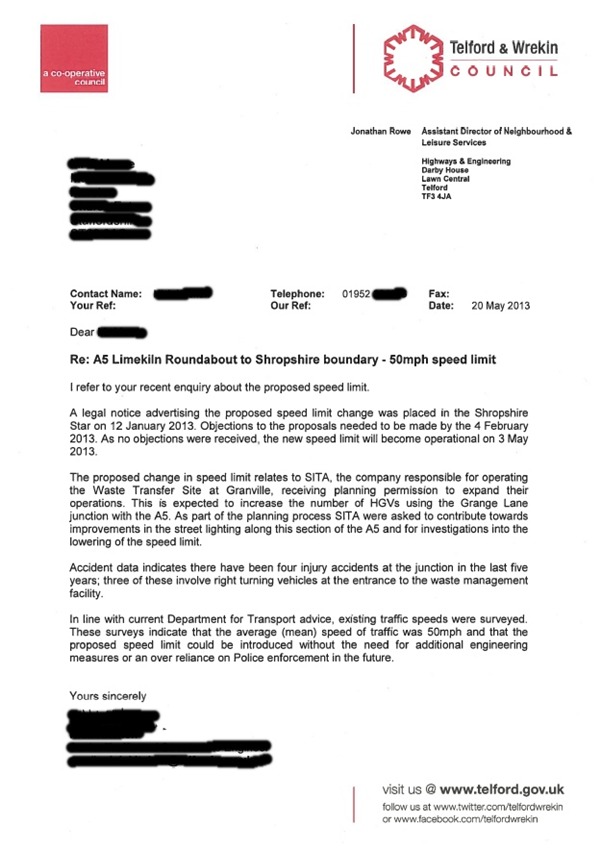 BACK