! (C) Copyright ShropMog >
F1 Belgian Grand Prix, Spa



This guide is based on our experience of the event in the 2000 season. The race weekend was in August but the weather was mixed - often the case at Spa.


We chose to go to Spa as it was taking place on the weekend after Mog2000, perfect timing for a touring holiday on the continent.

Tickets bought well in advance (before the end of January) benefit from discounted rates. These can be ordered by mail or fax, direct from the Circuit. Our 3-day Bronze Tickets cost about £75 each.
Parking is payable on the day. The car-park ticket covers all three days but some of the car parks were free on the Friday.
All of the Bronze viewing areas are connected by footpaths, tunnels and bridges. It is a good idea to move around on the Friday and Saturday, to see different parts of the circuit and choose your race-day viewing point.


On Friday and Saturday the car parking is a free-for-all. After going through the gates, you can park anywhere. There are fields full of tents, caravans and motorhomes, just park wherever there is a space! On Sunday, parking marshals directed us for one turn, then it was a free-for-all!


Traffic and queueing was not too bad on the Friday and Saturday. Sunday, after the race was a different story. The motorway was solid with fans - mostly German. The Belgian police had no idea about traffic management!

Early morning at the top of Raidillon. It is surprising just how much the track rises and falls, with the hilly landscape.

Friday's timed session in hot sunshine. German Ferrari fans cheer on their idol through Kemmel. The crowd is quite sparse on the first day but the beer is flowing!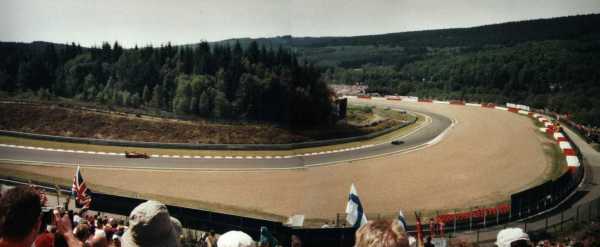 A good viewing point at Pouhon. The bank is quite steep and a good section of the track can be seen.

Race Day


Arrive early to get a place at your preferred viewing point. We arrived at 06:30 and the crowd was already large.

Needless to say, Spa means rain. The hours fly by (not!) as the support race is cancelled

The race started behind the pace car.

It stopped raining and the race was over quicker than you would think.
Tips
Buy tickets in advance and get the discounted rate. The phone number can be found on the FIA web site.
Book your hotel early. Try the Belgian Yellow Pages if you need a list.
Don't forget your waterproof clothing.
Move around the circuit on Friday and Saturday.
Arrive at the circuit very early on Sunday.
Don't be too early on Friday and Saturday.
Avoid the motorway after the race on Sunday.
Food and drink is available at the circuit but a picnic and cool box of beer is recommended for Sunday as it is very difficult to get through the crowds!


BACK