! (C) Copyright ShropMog >
MSCC Speed Championship
Ty Croes (Anglesey)
Click HERE for a circuit guide to Ty Croes.


5th MAY 2012
The day was cool and cloudy with occasional sunshine. The MSCC attended an earlier meeting at Ty Croes this year, with it forming back-to-back events on the National (Saturday) and International (Sunday) circuits.


| | |
| --- | --- |
| Morgans prepared in the paddock | Clive and Ray get into the zone |
| * Ray Eatock | * Gavin Rintoul |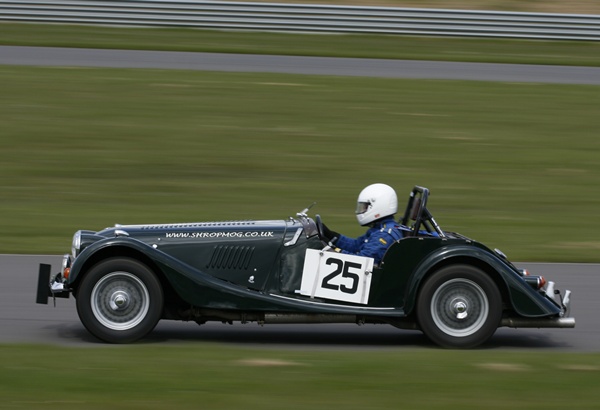 * Simon Moore

* Thanks to Raymond Lai for taking these pictures.


---
4th SEPTEMBER 2011
The day was cloudy and windy with some sunny spells. The previous day had been very wet and the track was still slippery for practise and first timed runs.


| | |
| --- | --- |
| | The circuit is in a lovely setting, with the sea and the Welsh mountains in the background. |
| Morgan area in the paddock | Spot the two speedmoggers on foot |
| Rocket complex with the sea beyond | Morgans between runs |
| Jonathan Baines | Richard Smith |
| Michele Bailey | Paul Clarke off the start line |
| Tim Harrison at the start | Paul Clarke |
| Tim Harrison | Onboard approaching the blind left hander in the Rocket complex |
| Exiting the 180<&deg> right hander in Rocket | Turn in for Peel. A good spectator point. |
| Appraoching the tricky downhill left hander | Exit the left hander onto Tom Pryce Straight |
| Round Hairpin and across the finish line | |
---
2nd SEPTEMBER 2007
The day was cloudy and windy. There were a few light showers throughout the morning but barely enough to dampen the circuit. The rain arrived early afternoon, affecting the third runs.

The circuit has been transformed since the last competitive meeting hosted in the old format during 2006. This year's event was on the National Circuit, just under two laps of the 1.2 mile layout. All the tarmac was new, the surface was very smooth and the combination of tight and fast bends with gradients and camber changes made for something of a challenge.


| | |
| --- | --- |
| | Morgan drivers are out of their cars in the pit lane. |
| Lined up in the pits. | Chris waits for his re-run, in the rain. |
---
3rd SEPTEMBER 2006
This year's Ty Croes sprint was influenced by the weather. The day started with very strong winds and a blanket of thick cloud across the island of Anglesey. The cloud started to break and the sun came through just enough to dry the track in time for the first practice runs.

The first timed runs were taken in the morning but as the Morgans lined up for their second run, the rain came down and the organisers decided to break for lunch. The rain had stopped but the track was still wet for the second run but the sun appeared again and the third runs were dry.

This will be out last visit to the Ty Croes circuit in its present form because they are undertaking a massive re-development of the circuit, turning it into a modern state-of-the-art motor racing venue.


| | |
| --- | --- |
| Morgans parked in the paddock. | Lined up in the pits. |
| | Waiting to be called to the start line, with the sun on the sea in the distance. |


Click HERE for a circuit guide to Ty Croes.

TOP
BACK