! (C) Copyright ShropMog >
Wine Carrying Competition


Wine is always popular with ShropMoggers. As it is considerably cheaper in mainland Europe, it usually forms part of the shopping list when touring abroad.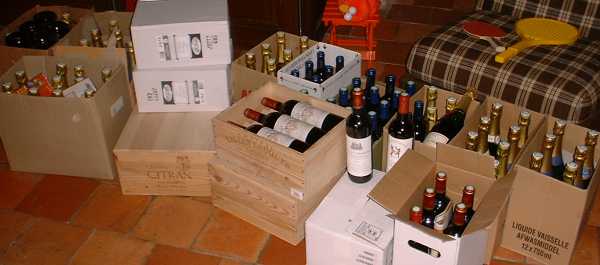 The bulk transportation challenge started back in 1996, when Jayne and Simon returned from a 16 day continental tour, complete with luggage and 67 bottles of wine in a 4/4 2-seater.




| | |
| --- | --- |
| Kevin and Lindsay recently returned from France with evidence of a considerable bulk purchase, although other centre members are yet to witness or sample the produce! | |


Never mind the special luggage racks available for your Morgan, this is the only rack you need - a WINE RACK !!!
Ideally suited for ShropMoggers, with just enough capacity to keep us in booze for a whole weekend! The one pictured here is fitted to Lindsay and Kevin's plus 8 - the rest of us are waiting to sample the contents.
BACK